Turnstyles Football Ethos
Turnstyles football is about enjoyment and through enjoyment comes success. From our Pre-Academy players ages 3+ years to our oldest Turnstyles team, we combine the principles of possession and ball retention, associated with FCBarcelona and Johan Cruyff, topped up with the flare and freedom linked with Brazilian football and players such as Ronaldhino and Neymar.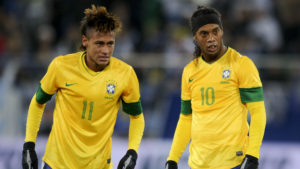 Uniting three key components: Futsal | Football | Music…
Football. At Turnstyles what we take from our understanding of British football is the passion and desire associated with the game. In Britain, technical players have not always been valued as highly as we think they should be, especially from grassroots to the lower tiers of professional football. However, the love of the game, the teamwork and drive to be winners is something that we very much appreciate at Turnstyles.
Futsal is the small-sided, South American version of the game, played indoors with a heavier ball that does not bounce. Football players such as Lionel Messi, Diego Maradona and Andres Iniesta all played futsal from a young age. Here we use futsal to develop the technical ability of our players – close ball control, speed of thought and an increased number of touches are some of the benefits of choosing futsal.
Music, specifically samba music is used to bring rythme and tempo to our training sessions. Music brings us back to our main goal – enjoyment. Playing with a smile on your face and loving the game is what we feel football is all about. Enjoyment is the reason why we all started to love the game and players that are enjoying their football often produce their best stuff.
Ages 3 – 14 years.
Football and Futsal in Enfield is really FUN, train indoor midweek and weekend whilst we are on the Summer Programme with our professional FA Coaches all DBS Certified and full of energy!
If you would like to come and join us at one of our children's football classes in Enfield or Wandsworth for a FREE trial click on the link below or alternativel call us on 0207 281 7007.

 Join us today! #LoveTurnstyles