There is no doubt, winter is here.
Storms across the south have caused winds of up to 85mph, torrential rain and flood warnings. Sadly, this means waterlogged pitches and a lack of football matches for our young players.
At Turnstyles, we hate the fact that winter has such a big part to play in our children's football. So instead of just letting mother nature have her way and stop us playing, we have come up with an idea to give every young player the chance to keep sharp and get some game time!
To ensure young football players across London have the chance to play and not be hindered by wet and windy conditions, frozen pitches and swimming pool sized puddles, we have put together our new Indoor Street Soccer League.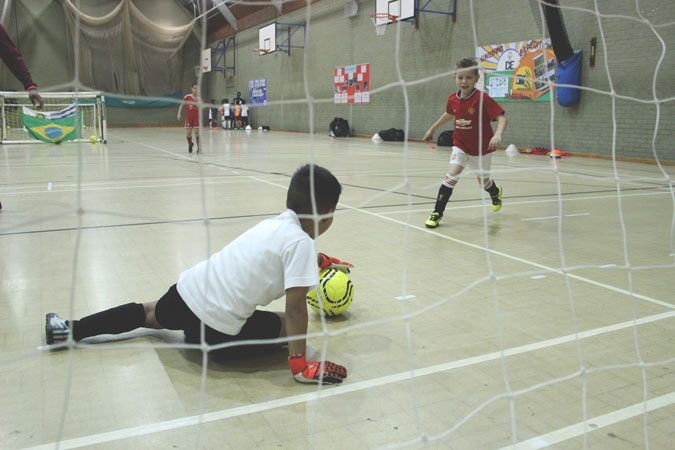 What is the Indoor Street Soccer League?
The Indoor Street Soccer League is a cool new way to play football, especially during the winter months.
Every Wednesday evening, young players can come down and play in fast-paced, small-sided matches to keep them focused and on the ball when the poor conditions outside may mean no league matches for a few weeks.
The matches are 5 versus 5 and are played with a futsal ball. The aim of the session is to get kids playing and raising awareness of the benefits of futsal to young football players, such as increased technical ability.
Where can I find the Indoor Street Soccer League?
This session takes place every Wednesday in the sports hall at Enfield Grammar School, right in the heart of Enfield Town.
Address: Market Place, Middlesex EN2 6LN.
Who is the class for?
The Indoor Street Soccer League is aimed at any young footballer who wants to simply play matches, develop their technical ability and have fun.
The session is currently aimed at children aged 9-13 years old but this is only the start and there are plans for expansion.
How much does it cost?
As our aim is to simply get as many young players playing as we can, the session will cost just £20 per month.
Interested? Great stuff! Simply follow this link to book your place.
If you are looking for further coaching, we also offer children's football classes in Enfield that are focused on developing talented young players.
Click here to find out about the other kid's football classes that we offer in Enfield.