Nine months ago, the odds being offered on Leicester City winning football's Premier League title were identical to the quoted odds on Elvis Presley being found alive this year: 5,000-1 against.
Elvis is yet to turn up, but Leicester, who defined the term "rank outsider", have achieved the impossible, after an adverse result for their only remaining rivals, Tottenham Hotspur, drawing 2-2 with Chelsea, handed them the league title with games to spare.
For the few punters bold enough to put cash on the season's "joke bet", the result means winnings of up to £100,000 each, though the nation's bookmakers will be less than jubilant: between them they will be paying out £25 million, the biggest loss in British history on a single sporting market.
In an era when football fans accept that only the richest clubs stand any chance of success, unfashionable Leicester's achievement will go down as one of the greatest in any sport, ever.
By way of comparison, the odds offered on Leicester winning were twice as long as the 2,500-1 odds offered on Eddie "The Eagle" Edwards winning ski-jumping gold at the 1988 Winter Olympics.
All across a city not known for lavish expressions of civic pride, Leicester was staging a rhapsody in blue. Buildings including De Montfort Hall and the John Lewis store were bathed in blue light, while butchers at the covered market reported a lively trade in sausages made with a blue-dyed meat.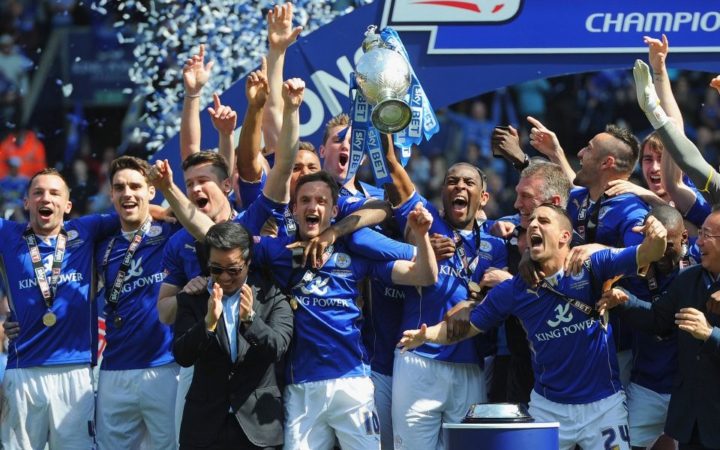 Brü Coffee Shop on Granby Street was also open late on Monday night to promote its 'Vardy-cino', a cappuccino tweaked to display a silhouette of star striker Jamie Vardy on the froth.
Even Richard III, memorialised in statue outside Leicester Cathedral, had a blue club scarf thrown around his neck. At every turn, supporters were celebrating with raucous abandon – not least Karishma Kapoor, 20, a loyal Leicester fan who had just won £10,000 courtesy of her £2 bet last August on her team to win the Premier League title. She toasted her windfall, aptly, at the Local Hero pub.
Ultimately, the frustration of a draw at Manchester United 24 hours earlier had simply been a case of jubilation deferred. Vardy had been prescient enough to hold a party for his team-mates at his own house, while manager Claudio Ranieri returned home from lunch with his mother in Rome in time to watch Tottenham's decisive game with Chelsea at Stamford Bridge.
Deepak Gohil, 40, a Leicester season ticket-holder, said: "I always had contingency plans for this. We had all gone, my children and I, to the stadium on Sunday to watch the United match on big screens in the function rooms. But I always knew the outcome could be settled elsewhere."
Playing in football's third tier as recently as 2009, the club was only promoted to the Premier League two years ago, and narrowly avoided relegation this time last year.
With a squad assembled at a cost of £54.4 million, the same amount of money their title rivals Manchester City spent on a single player, Leicester's sole ambition for this season was to avoid going down. Claudio Ranieri is the manager responsible for the club's staggering reversal of fortune.