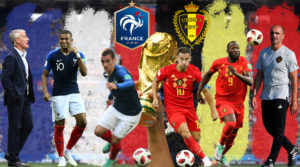 It is going to be a very tight game
tonight
! Two of the world's strongest go head-to-head in the World Cup semi-final.
                                                                                                                                                                  Both France and Belgium have world class players such as Kylian Mbappe, Paul Pogba and Antonine Griezmann, just to name a few of the French stars. Belgium also have their fair share of world-class talent with players like Eden Hazard, Romelu Lukaku and Kevin DeBruyne.
                                                                                                                                                                  France have had a very successful run so far and are undefeated in the tournament. They've taken on Australia winning 2-1, then they beat Peru 1-0 and drew 0-0 with Denmark in the group. They then took on Lionel Messi's Argentina and won 4-3, before seeing off Uruguay 2-0 in the quarter-finals.
                                                                                                                                                                  Belgium too are on an undefeated run beating Panama 3-0, Tunisia 5-2 and England 1-0 in the group stage. They then took on Japan and won 3-2, despite being 2-0 down in that tie. Next up they played Neymar's Brazil and came out victorious with a 2-1 win over the South Americans.
                                                                                                                                                                   So far in the World Cup, there have been twenty-eight penalties awarded with ten of them being awarded by the new VAR system. One of the penalties awarded by VAR was given to France against Australia which they scored. Furthermore, Belgium also have had one penalty awarded by VAR against, which they scored against Tunisia.
                                                                                                                                                                   No doubt this World Cup has thrown up some unbelievable twists and turns. Hige footballing nations have fallen. We've seen Germany, Portugal, Argentina and Brazil knocked out before the last four.
                                                                                                                                                                  This shows how we shouldn't underestimate teams and that this World Cup is anyone's to win out of France, Belgium, England or Croatia. France have one World Cup to their name, that summer in 1998. For Belgium, their best run was coming fourth in the 1986 Mexico World cup.
                                                                                                                                                                 The game
tonight
is what all football fans dream of. Top class talent, competing on the biggest stage of them all. Who will make it to the World Cup final?