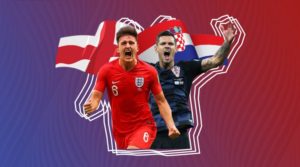 It's going to be a great game. Two nations that deserve to be here in the semi-final of one of the best tournaments in the world, as 32 nations compete with each other to try and gain the recognition as the best footballing nation in the world for four years until another country comes along to try and take their title.
England is a country that has pure talent with the likes of world class players like Harry Kane, Raheem Sterling and many more amongst others. Croatia however, have good players that when they put in their all, can get their team the victory.
England have won the World Cup before in 1966, which was also held in England and was celebrated massively across the country as it was their first time winning it. Can England win it again this time in another country? England have had a decent run in this World Cup as they won their opening game against Tunisia 2-1 with a last minute goal by Harry Kane, then went off to win with a stunning 6-1 victory over Panama, but lost to Belgium 1-0 putting them in second place of the group and making them go up against Colombia. That game finished ninety minutes with a 1-1 draw and went into penalties, with England surprisingly winning for their first time since 1990. In the quarters, they went up against Sweden beating them 2-0.
Croatia's best result in the World Cup is coming third place in 1998. Croatia have an undefeated run as they beat Nigeria 2-0, beating Lionel Messi's Argentina a shocking 3-0, beating Iceland 2-1 giving them 9 points and finishing first in their group. In the round of 16, going up against Denmark drawing 1-1 in normal time and going to penalties and winning 3-2. In the quarters, the went up against home nation Russia drawing 2-2 and going to penalties winning the Russians 4-3 on penalties…again.
It's anyone's game, both very strong sides with a potential of winning this year's World Cup, which leaves us with the question: Who is going to the final against France and winning the World Cup?